Log-In Experiences Changing for GMFS Portal
WHAT?  The two portal log in experiences currently on this site will change by becoming reversed.
WHEN?  Links will switch morning of Wednesday, Feb. 20th
HOW?
1. Main "LOG IN" link at top right will start to go to Encompass TPO Portal log in experience
2. The "ENCOMPASS TPO" link at top middle will be renamed "OLD PORTAL" and start to go to that log in experience (this link will eventually be removed from Partners site)
WHY?  Due to successful conversion to new LOS

 NOTICE
Submit ALL NEW locks and 1003 submissions via new Encompass TPO portal.

For assistance, please contact your GMFS District Director.
TIPS FOR USING OLD PORTAL:
1. Only Internet Explorer (IE) browser, version 10 or higher, fully supports ALL old portal functions
2. Your browser's optional Pop-Up Blocker feature must be turned OFF to use some old Portal features such as 1003 Import
e.g. For IE Browser:  Click "Tools" on Menu bar and then click "Pop-up Blocker" from Tools drop down menu, then select option to Turn Off Pop-up Blocker. See image below.
TIP: if you don't see the Menu bar, right click on gray bar under the web address at top of browser, then click "Menu Bar" from the drop down
3. Make sure the Partners site URL is NOT listed in IE browser's optional Compatibility View feature
e.g. For IE Browser:  Click "Tools" on Menu bar and then click "Compatibility View" from Tools drop down menu, if "gmfspartners.com" is listed as a  Website you added to Compatibility view, then click the URL to highlight it and then click "Remove" button. See image below.
To re-try Log In after using these tips, scroll up to enter your credentials above.
Pop-Up Blocker Settings in IE Browser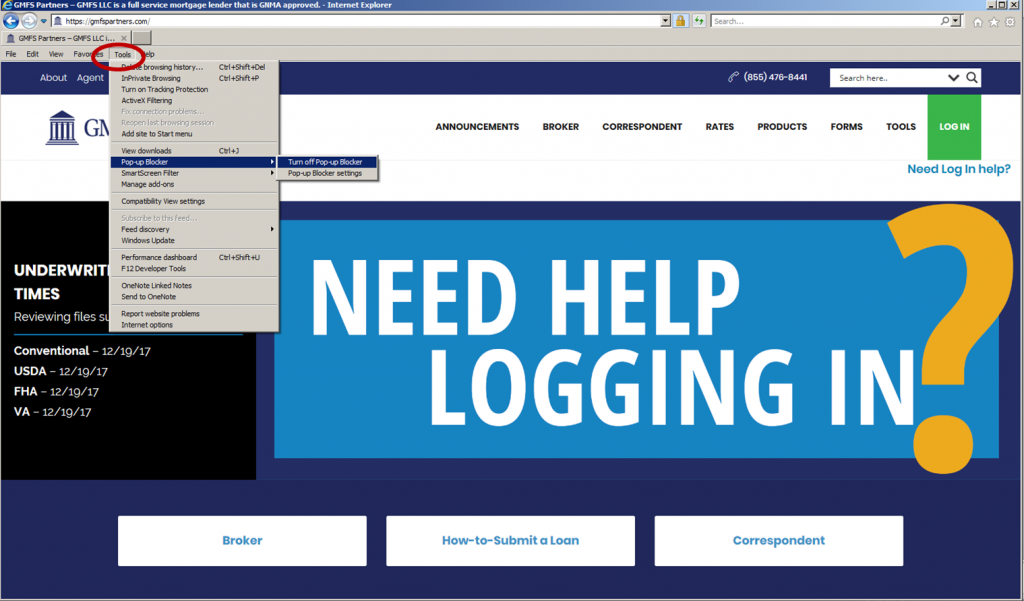 Compatibility View Settings in IE Browser